Welcome Back, Huskies!
Posted: | Updated:
Summary: Welcome Letter from our Proud Principal; Open House; Pre-K and Kindergarten Orientation; Student Supply List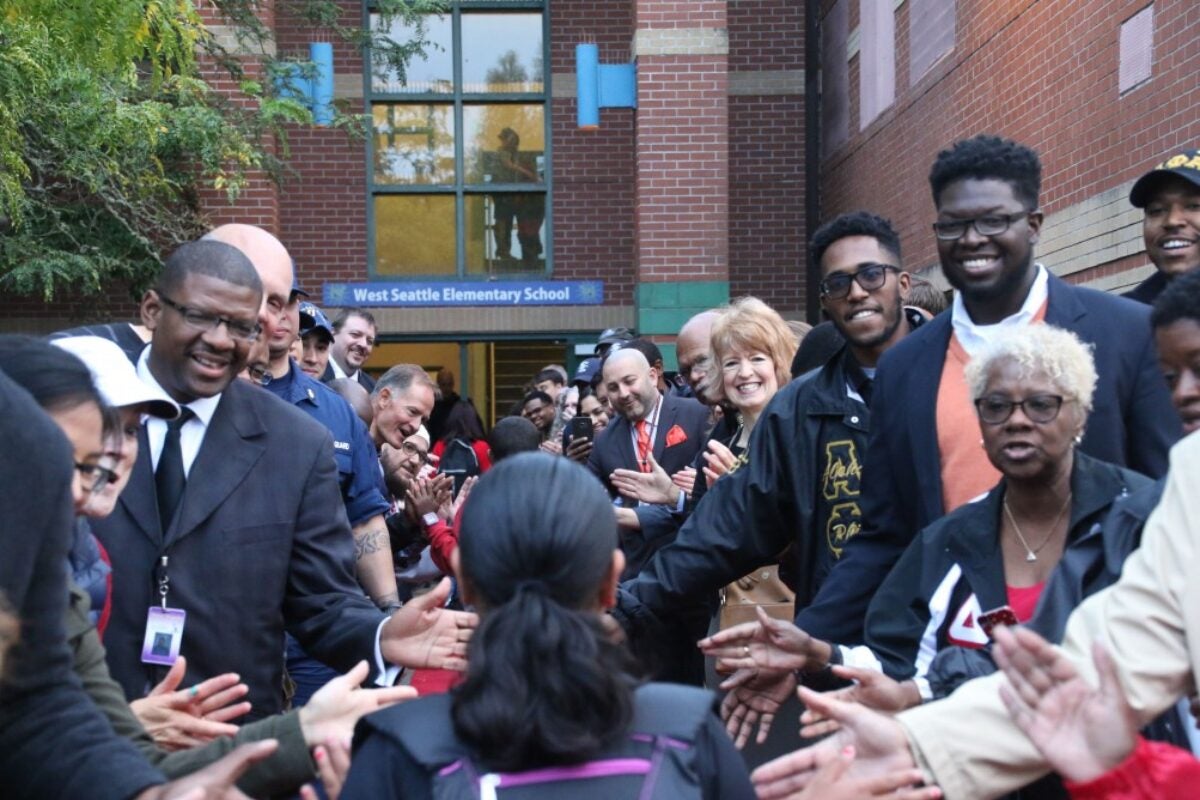 WSE Schoolwide Goals:
All Students, especially those furthest away from educational justice, will read at standard by 3rd grade.
A safe and welcoming environment for students, parents, teachers/staff, and administrators. We will model adult interactions around having mutual respect for all.
Dear Families:
Welcome to our school family if you are new to West Seattle Elementary; if not, welcome back! I believe WSE is a hidden gem. It is such a great school for all students.
Great News – When looking at English Language Arts, Leadership Skills and Teacher Belief in Students academic and climate survey data from last year, WSE outscored the District and the State for our demographic of students. This year the district will be naming us a School of Excellence.
We will be doing parent meetings this year, monthly, at either Neighborhood House or the Community Center. Due to our social worker, Mr. Abdi Ali being out on leave, Mr. Rashid Noor, who is studying to become a principal or program manager, will be leading these meetings as well as many other community outreach programs. Akim Finch, Ebony Hill, Awal Haji, our 6 parent liaisons and Muhiddin Hassen will also assume more of a leadership role in providing supports in the community. Mr. Garcia, my amazing Assistant Principal, will oversee all these efforts.
We are looking forward to working with you and your precious children and helping them achieve their success academically, emotionally, intellectually, physically and socially.
Our school days will be filled with many wonderful experiences and opportunities to learn and grow. We are really excited about the new math adoption (Envision) this year, as well as continually supporting the science adoption from last year. We will continually support our goals around Language Arts (ELA)goal in reading with a major focus on writing We strongly believe that a good parent-teacher relationship is the key to your child's and the school success.
We are preparing for the move back to our beautiful home building next year in the High Point community.J We will continue to keep you updated on this process. We also look forward to our big ribbon cutting, red carpet celebration.
Thank you and warm regards!
Pamela McCowan-Conyers
Proud Principal of West Seattle Elementary
Residing currently at Schmitz Park
5000 SW Spokane, Seattle WA
Work Hours: 8-4 M-F
Ritchie Garcia (Assistant Principal)
Rashid Noor (Administrator)
Back to School Supply List

Dear Families,
Below is the list of school supplies to buy for your child. If you are unable to get the supplies, no worries because we have school supplies at the building. We will be receiving 384 backpacks from a Costco donation.

Pre-K
Box of tissues
Large Crayola crayons
Fat Ticonderoga pencils
Glue sticks

Kindergarten
Box of tissues
Large Crayola crayons
Glue sticks
Fat Ticonderoga pencils
Primary composition notebooks

First Grade
Box of tissues
Ticonderoga pencils
Primary composition notebooks

Second Grade
Box of tissues
Pencils
Erasers

Third Grade
Box of tissues
Pencils
erasers

Fourth Grade
Box of tissues
Pencils
Erasers
Fifth Grade
Box of tissues
Pencils
Erasers